It was around 674, when Benedict Biscop, the Abbot of Wearmouth, built a monastery on St Peter's Riverside. He had begun a cultural heritage which still continues to this day. The monastery was in fact the first building in England to have stained-glass windows and the Saxon bible. The area around the monastery and in particular the River Wear, became the focal point for much of Sunderland's history including coal mining, shipbuilding, glassmaking and rope making.
Today, That history continues on the River Wear with many students from around the globe coming to study in the new and modern buildings of the University of Sunderland campus as well as the re-developed Roker Marina.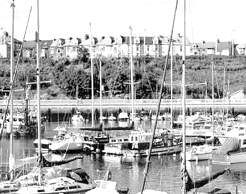 Roker Marina
You will find that by walking along the banks o the River Wear, you will come across many historic trails, and some modern ones with certain routes leading you to the magnificent Sunderland Stadium of Light, home to the world's greatest football team, Sunderland AFC, a successful English Premiership side, supported by thousands of people locally and internationally as well as being heavily covered on the Internet by such sites as Ready To Go, the number one independent SAFC fanzine.
The housing estate that was once
Roker Park (shows what was the Roker End
of the ground)
Let us not forget however the former home of the City's team, Roker Park, now a new housing estate but land steeped in over 99 years worth of history.
The National Glass Centre
The banks of the Wear, also include the Sunderland Glass Trail taking visitors on a journey through 1300 years of glassmaking. The National Glass Centre opened in June 1998, continues the City's links with the glass industry, allowing visitors the chance to try glass-blowing and to buy glassware at factory prices.