Sunderland's World Famous Empire Theatre is the largest theatre in the North East and offers an impressive range of entertainment, opera, jazz, ballet, rock concerts, musicals, family shows and one of the most successful pantomimes in the country.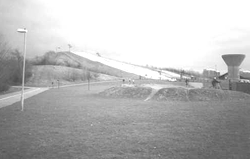 Silksworth Ski Slope
Visitors the area are always surprised to see an ancient Greek Temple resting on a commanding position over-looking the city on Penshaw Hill.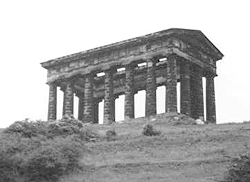 Penshaw Monument
Penshaw Monument is Sunderland's most prominent landmark. It was built in 1844, and modelled on the temple of Theseus in Athens, the monument is in memory of John George Lambton, the first Earl of Durham.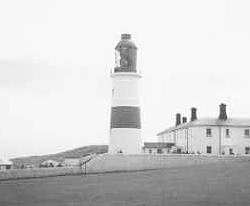 The Souter Lighthouse
at Whitburn
There are many man more attractions around Sunderland including The Silksworth Ski Slope, Fullwell Mill, Monkwearmouth, The Souter Lighthouse, Bowes Museum, Beamish Museum, The City Centre Museum and Art Gallery, Washington F Pit, Ryhope Engines, Barnes Park, the Beaches of Roker, Whitburn, South Shields and Seaham to name just a few.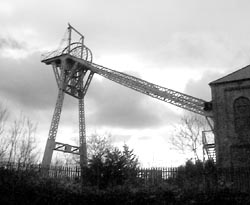 Washington's "F" Pit
As Sunderland re-vamps itself for the 21st Century, one or two famous landmarks are also disappearing. The Sunderland Royal Infirmary is one of these such landmarks now completely demolished to be replaced by modern private apartments.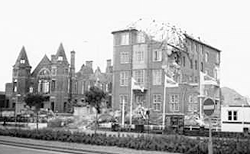 The demolition of the
Sunderland Royal Infirmary
Today the biggest landmark by far is the football ground. The Sunderland Stadium of Light was built in 1996 on land formerly occupied by the Monkwearmouth coal mining colliery. The football club decided time was right to leave its former ground of Roker Park after 99 years to build a modern and larger stadium for the growing City and thriving football team.
The stadium currently has a capacity of 49,000 seats and can be visibly seen from miles around. Even at night the Stadium can be located following the installation of four powerful spotlights on each corner of the ground that shine up into the night sky honouring its name "The Stadium of Light". These "spotlights" are similar to the ones used during the second world war for spotting enemy bombers and can be seen on clear nights well over 20 miles away.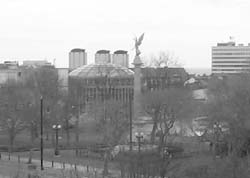 Overlooking Mowbray Park and the "Winter Gardens"
Mowbray Park in the City Centre has also gone through a major make-over with the Park re-designed into the "Winter Gardens" with major building work taken place on the Museum to turn into a major landmark and tourist attraction for Sunderland with the building of a glass house in honour if its original building from many years ago that rivalled the Crystal Palace for its beauty and design.