The limestone cliff formations that dominate much of the coast between Hartlepool and the River Tyne, are much in evidence at Marsden to the north of Whitburn. Most notable of the limestone features is the massive Marsden Rock. This was once within jumping distance of the coast, but is now an isolated limestone stack providing a natural refuge for Kittiwakes, Cormorants and Fulmars. Set within the coastal caves overlooking the Marsden Rock is the famous Marsden Grotto Public House. Its history begins in 1782, when an Allendale lead miner nicknamed `Jack the Blaster' came to work in the limestone quarries at Marsden and blasted a home for himself and family out of one of the caves of Marsden Bay. Jack became known for his hospitality and his home developed into the Grotto Inn.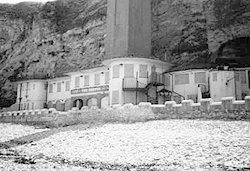 The Grotto Inn a few years ago whilst it was
boarded up and closed
Marsden Bay was once a frequent haunt of local smugglers, who numbered among Jack's best customers and suppliers. On one occasion the smugglers were nearly caught in the act at Marsden after one of their fraternity turned informer and passed information to the South Shields excise men regarding the landing of illegal cargo at Marsden Bay. The smugglers learned of the imminent danger of being caught and managed to warn off the vessel that was bringing the illegal merchandise. It dumped its cargo further down the coast at Souter Point near Whitburn.
When the identity of the informer was discovered by the smugglers he was hung from a bucket, inside a shaft called the Smuggler's Hole which had been bored into a cave near the Marsden Grotto. Here the poor man had to suffer the jibes of his former comrades who gluttonously feasted in front of his eyes and used him as a target for their refuse. It is said that on cold dark stormy nights, his ghostly wails can be heard above the sound of the howling winds. Smuggling took place in the vicinity of Marsden well into the nineteenth century and as late as 1851 there is a record of the capture of a cargo of 8000 lb of contraband tobacco in the area with an estimated value of £4000.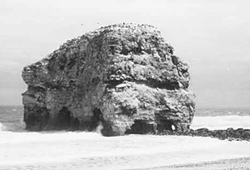 Marsden Rock as it stands today
A few years ago this famous landmark practically collapsed resulting in the rock becoming two smaller pieces as the "tunnel" area finally fell in as a result of costal erosion, making Marsden Rock, "the Marsden Rocks"!